Red Thread Letter #895
Dancing Home together
Dancing Home Together by Shiloh Sophia
I want to remind you
You don't need to know
how to do this
This life experience
we are now experiencing
is the stuff of riddles
Things are not as they seem
THIS is unfamiliar territory
and we aren't sure we want – this –
Uncertainty is in a wild dance
with the most unexpected of Mysteries
They are old friends, you know
They are comfortable
in one another's embrace
Moving in the rhythm of the unknown
They are inviting us into the swirl
willing to hold us close
if we can be brave enough to say yes
It seems….
Life is looking for dance-partners
capable of learning really new moves
This is an uncommon companionship
Life is asking for those
who are willing
to turn towards the unknown to rise
With love, and fear,
and hope, and despair
All that messy-goo-stuff gets included
We aren't being asked to let go
of all that we are feeling
Rather, to feel everything we can
The self-expression of the deepest place
of soul that each of us inhabits
is being summoned as a life-force resource
Resilience and revolution opens
and strengthens us and shapes us
and provides access to hidden joy
A path of practice appears before us
a community of misfits and mystics
extend a sturdy red thread of connection
You are held in a moving embrace
Not just any embrace
THIS particular embrace
THIS ONE
RIGHT HERE
RIGHT NOW
Yes, I know, it is unlikely
to find belonging at this time, but you have,
right here you are with us, you are us
Let me remind you
You don't have to know how to do this, alone
We don't need to know how it will turn out
We do know how it begins
It begins right now, you see….
How does it begin, you ask?
By including yourself in this Circle
the Circle that THESE words
and THIS energy is building right NOW
Feel the woven-with-love-right-now-ness
Do you feel this? This love is real and tangible
Choose yourself into inclusion
Uncertainty is here
Yet something else is here too
The steady pulse of THIS community
The rhythm of 10,000 women praying,
painting, playing, pausing and peace-making
We say to you:
You don't have to know how to do this
We turn toward the riddles
and decide together
We are dancing each other home
Join us here in the place between places
the space between spaces
THIS place is building momentum
Hear the sound of our feet on the good ground
hear the sound of our hearts beating beside you
Claim quantum imagination
and begin to SEE us
FEEL US and know our stories
Come, come, come to the Dance of Embrace
Come, come, come to the Circle of Connection
Come, come, come Home to Community
Most of all, come to us in your own way
in your own spirit, in your own story and art,
Know that right where you live, we are connected
Each of us must do our own sacred work
to strengthen THIS weave as we can and
become responsible for our own piece and peace
Listen….listen from the inside ears
This circle isn't just an experiment
This circle isn't fleeting or temperamental
This circle has been forming for five decades
and is designed to last for many more
You are just in time
I think I can hear your rhythm now
moving across the dance floor of time
in my heart and mind, you are coming close
I have been waiting for you
We have been waiting for you
We have been looking for each other
THIS circle is not the unknown,
this circle is THE KNOWN
and we are ready to embrace you
So while the great mystery unfurls
her glorious cloak of change
We are here, dancing with one another
keeping time with the moon
honoring the waters
collaborating with earth and tree and animal
seeking sky and star and the rich darkness
thanking sun and light
discovering our place in the unfolding
and all the while, we dance
in the embrace of community
-Shiloh Sophia
Dear Ones of the Red Thread,
Yesterday morning I wrote this and thought about the circle that started for me on the day I was born. Yep, circles have been a part of my life for 52 years. Since then many of you have joined me, and this circle has never stopped.
The story: On the way to the hospital with my mother Caron was Sue, my Aunt Janet, my cousin Bridget, my sister Shannon, my brother Brent and one more friend. I know they got a flat tire on the way and women had to change it on the side of the road between Sonoma and Marin. It was the middle of the night, but it was bright from the full moon. I wonder how they all fit in one small car lol. No seatbelt seventies pile up. I wonder how my mother thought it was a good idea to bring EVERYONE with her lol.
That was my first circle and there will be circles and community as long as I am here. I hope I can create the kind of circle to last for lifetimes, I hope to do that with you.
Inclusion is a big part of our global community – very very real and practiced. Yet there is also work here to strengthen our personal and collective weave. We request that each person in this circle show up for their piece of the red thread. Intentional Creativity is our path of practice here, it keeps us present in our work and doing our healing, and showing up to be the witness for and with our sisters. If you would like to practice Intentional Creativity – you can always see what we're up to at www.musea.org/school.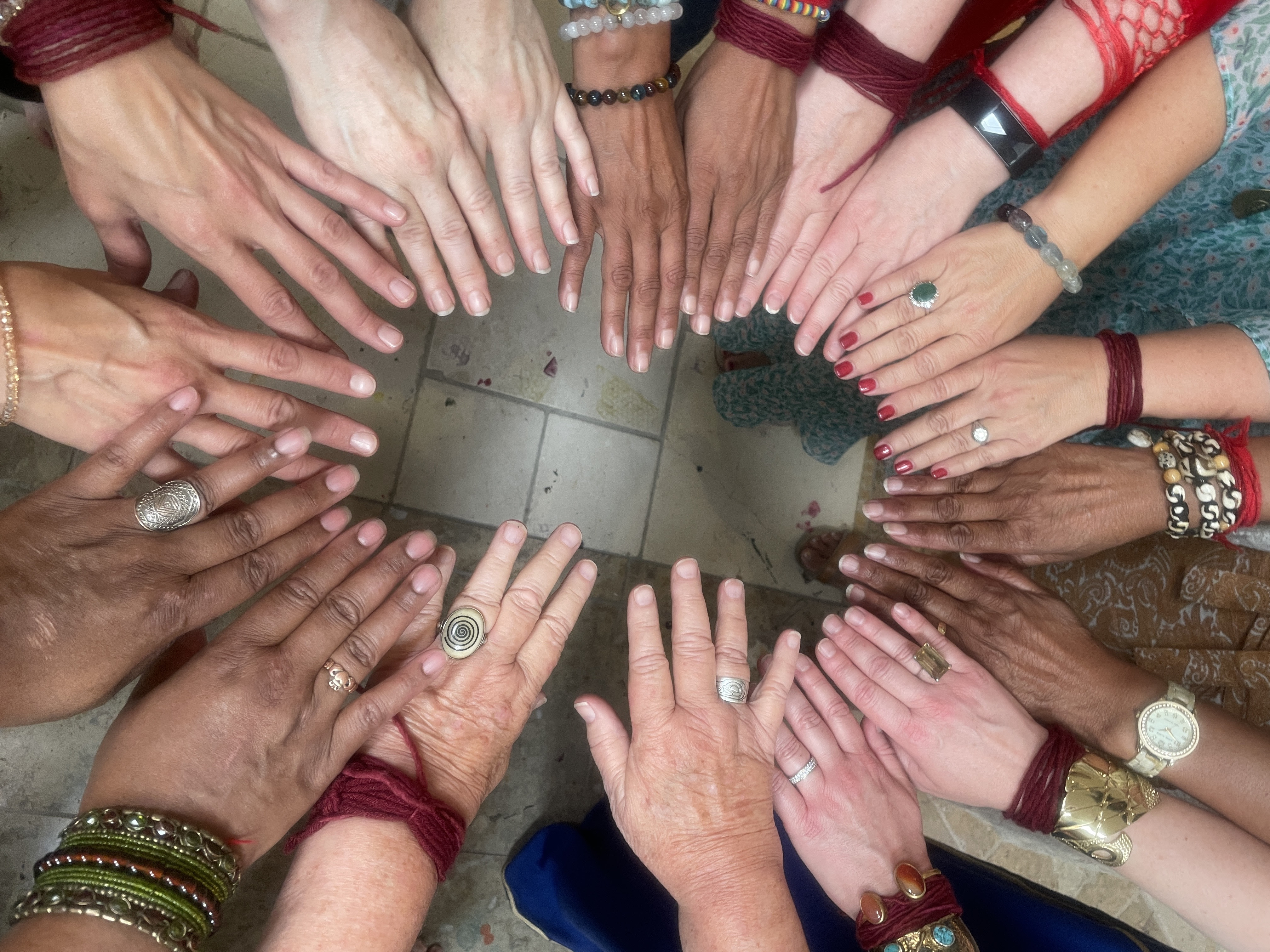 Photo taken during Color of Woman Rites of Passage Gathering August 2022 at MUSEA Sonoma.
Photo credit: Pamela Llano
I am forming a circle specifically for the Intentional Creativity Path of Practice and I request your prayers – this will be my core offering – the place you can always find me and connect with me for those who desire. I am deep in prayer about the shape and language – I know the energy – I am seeking the form. Can you see my praying? Pray with me if you will.
We are calling a circle called VIVID – our annual community gathering that our MUSEA and Cosmic Cowgirls team will be hosting. Many are coming from around the world to the Mothership in Sonoma! The virtual part is for the global community. Save the dates November 4, 5, 6, 2022. Ways to connect coming soon!
The term, 'walking each other home' is attributed to Ram Dass and Rumi – and more lol. An idea that warms our hearts, and we have, in our way, made it our own by including DANCE. Because we love to boogie baby.
Anyway. I woke up thinking about you and had the first few lines of this poem come through. Through the writing itself, Intentional Creativity itself, I discovered the core message. This circle is part of what is known and what we can count on. That is a revelation, about THIS time. Join me in making the REALITY of this quantum space very very real for you – and for those you invite into this space with you.
We just finished the Motherboard Rites of Passage gathering in Sonoma. Yesterday I filmed with Motherboard Graduate Sophie Michaud at MUSEA Center for Intentional Creativity!
And today, I am embracing you, in the dance of life and I want to remind you – you do not have to do THIS alone.
Love you so,
Comments